Gantry Straightening Press from RK Machinery

Straight to the Bottom Line
From machining shops to manufacturers, RK Machinery's Gantry Straightening Press is designed for all your straightening and machine shop needs. Make your production shop's work-flow more efficient and get the job done right with the right tools!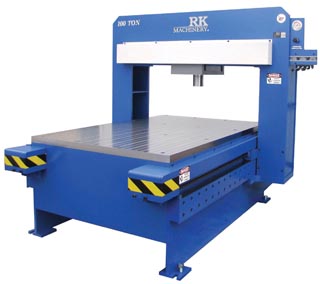 Whether using it for post-production adjustments on axels, shafts or rods; or in the fabrication of other metalworking projects, our hydraulic straightening press is designed with quality, efficiency, and ease of use in mind.
Tips for straightening bent steel

Safely use our straightening press on almost any material:
Steels, steel alloys and carbon steels
Stainless steels
Copper alloys
Nickel alloys
Aluminums
Cast irons
Titaniums
Increase Your Profits
Make the most of your shop time using tools that cut down on wasting time and reduce the costs of scrapped projects. Our Gantry Straightening Press allows you to make subtle adjustments while working on a piece. This means you get superior results, more control as you go, and reduced labor costs. Not to mention the money you save on scrapped projects and wasted time.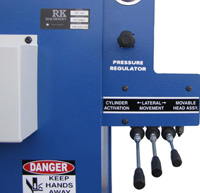 The Workin' Man's Press
Operator comfort is a big priority as well, and our adjustable pedestal has height adjustments to allow for the best set-up for each operator. This means cutting down on discomfort, fatigue, injury and accidents. When you work all day at a machine, finding one that fits well is worth its weight in gold.

The Gantry Straightening Press also features a movable workhead which lets the operator position the cylinder from side to side and front to back by touching a lever.
Some of the Gantry Straightening Press features include:

• Powered moveable work head allows for off-center work
• Cylinder activation is fingertip controlled
• Pressure regulator limits ram pressure
• Flat ram nose can be quickly changed or adapted
• Low hydraulic system pressures
• Lower oil temperatures
• All parts manufactured and assembled in North America
• Optional moveable pedestal for operator comfort
• 10 HP 3 phase
• 8" Bore
• 12" Stroke
• 20 IPM Ram speed on press
• 26 IPM return speed
• 100 Ton Capacity